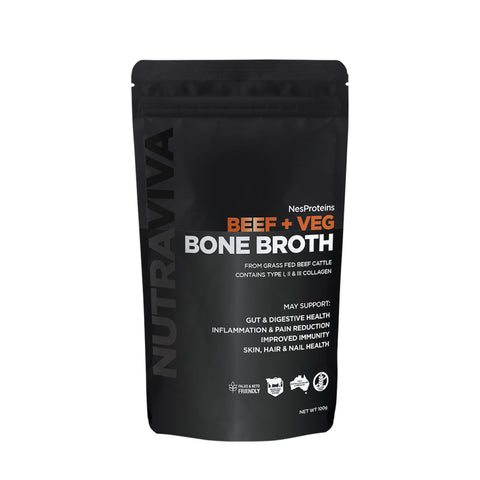 NutraViva (NesProteins)
NutraViva NesProteins Bone Broth Beef & Veg 100g
$17.00
$21.00
you save $4.00
The main reported health benefits of bone broth include gut and digestive health, improved immunity as well as reducing inflammation. It is also said to aid in skin, hair and nail health, strengthening joints, bone and teeth, improving hydration and nurturing better sleep patterns, as well as helping to normalise stomach acid.
Collagen is the most abundant protein in the body and is a key constituent of all connective tissues. Collagen provides the infrastructure of the musculoskeletal system, essential for mobility. Peptides are short chain amino acids naturally derived from collagen protein. These natural peptides are highly bioavailable, digestible and soluble in cold water. The intake of collagen ensures the cohesion, elasticity and regeneration of skin, hair, tendon, cartilage, bones, and joints.
Collagen is a natural and healthy ingredient that has been used for centuries. Collagen-rich foods are a large part of traditional diets. Our ancestors utilized whole-animal nutrition, which provided an abundant amount of collagen, the native form of gelatin. Over time, we have lost touch with this powerful, healing superfood.
Ingredients:
Australian grass fed beef bone broth powder (beef bones, filtered water, apple cider vinegar), grass fed and finished beef collagen,proprietary beef blend (yeast extract, salt, natural beef flavour)
Collagen Highlights:
Pasture Raised

Naturally Minimally Processed

No Additives or Preservatives

Light molecular weight is highly digestible
Collagen Information:
Nourishment from the inside out
Want to look and feel younger? 70% of our skin is made up of collagen. Collagen ensures the cohesion, elasticity and regeneration of skin. Maintaining the amount of collagen is the key to beautiful skin. Glycine, proline, alanine and hydroxyproline are the main constituents of collagen; replenishing these constituent amino acids appears to be needed to maintain the amount of collagen at healthy levels. These amino acids are essential for maintaining an even skin structure and thus healthy skin. Clinical research has shown that collagen, a natural protein:
Promotes younger looking skin

Improves skin moisture level

Improves skin smoothness by reducing the number of micro-relief furrows

Improves the signs of deep wrinkles

Improve Skin Suppleness
Bone and Joint Support
Collagen represents 90% of organic bone mass and is a major component of ligaments, joints, and tendons. Dietary supplementation provides rapid absorption and repair of all structures in the body. Collagen supports healthy
Bone and Mineral Density

Joint Health

Inflammatory response due to joint overuse or exercise
Fit for Life
Collagen has been shown to be more effective than whey protein in regards to athletic performance and building muscle. The naturally occurring amino acids support a healthy inflammation response due to inflammation from training and exercise. The protein from collagen also helps to:
Restore Muscle

Maintain a lean body

Stabilize Appetite

Lose & Maintain Weight

Increase Athletic Performance
Deeper Sleep
The most abundant amino acid in collagen, Glycine, an immunonutrient which supports healthy inflammation response, promotes deeper, more restorative sleep as well.
Learn More:
What is collagen?
Collagen is the most abundant protein in the body. It is a primary building block of skin, hair, nails, bones, tendons, joints, and cartilage. It is considered the "glue that holds the body together".
Why do I need collagen?
When we get older, the production of collagen begins to slow down and cell structures start losing their strength. As a result, the typical signs of aging: loose skin, wrinkles, joint pain, low bone density, thinning hair, begin to show.
Supplementing with collagen is a vital way to help your body rejuvenate and stay youthful.