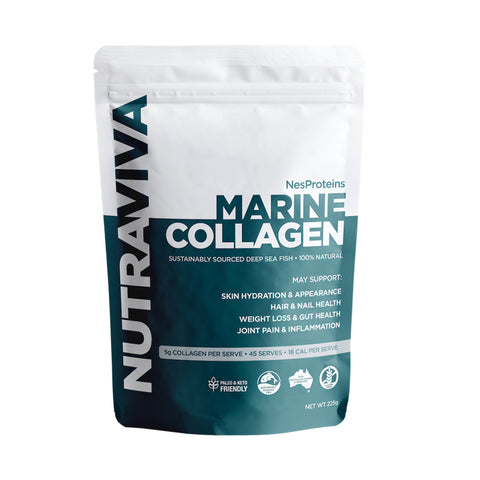 NutraViva (NesProteins)
NutraViva NesProteins Marine Collagen (Sustainably Sourced Deep Sea Fish) 280g
$50.00
$51.00
you save $1.00
NesProteins marine collagen is 100% natural, and made from premium wild-caught marine fish.
NesProteins marine collagen has a very low molecular weight and is optimised to stimulate collagen metabolism and increase the production of collagen synthesis.
This makes it ideal for beauty improvements such as firmer, smoother looking skin with few lines, stronger nail growth and healthier hair.
Our NesProteins MARINE COLLAGEN also supports:
Exercise and injury recovery
Inflammation and pain reduction
Healthy bones and joints
Protein supplementation
Marine Collagen is highly regarded in the beauty industry for re-hydrating skin, protecting against UV light, restoring fine lines around the eyes, for beauty, including healthier hair, more youthful skin and stronger nails. It can also help support the reduction of cellulite, wrinkles and stretch marks.
Ingredients
Premium marine collagen peptides