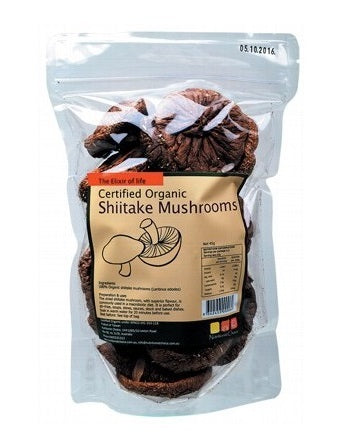 Nutritionist Choice
Nutritionist Choice Certified Organic Shiitake Mushrooms 45g
Shiitake mushrooms are edible mushrooms that grow outdoors on oak logs. Known as the elixir of life since ancient times shiitake mushrooms are an immune booster and contain a rich amount of minerals, vitamins B1, B2, B6, and an abundance of ergosterol that is not included in many foods (ergosterol becomes vitamin D2 to support the growth of bones and teeth).
Shiitake Donko is one of the highest ranked, richest tasting shiitake. Donko is a type of shiitake that grows slowly in a cold season and is gathered when its top is 60%-80% opened, making the meat soft in texture as well as rich in flavour and aroma are generated during the long period of growth.
Ingredients:
100% organic shiitake mushroom.

Key Benefits:
Certified Organic

GMO Free

Sulphate Free

Gluten Free

Dairy Free

Suitable for Vegetarians & Vegan
Certified by INTL
Barcode:
9342453000062