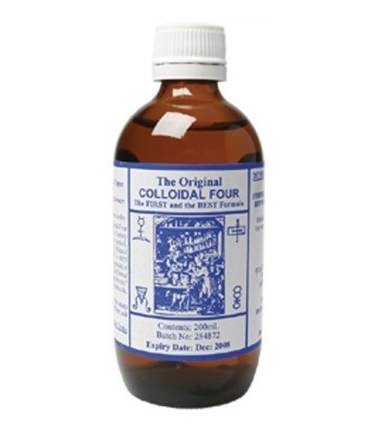 Original Colloidal
Original Colloidal Four 200ml
$27.00
$28.00
you save $1.00
The Original Colloidal Four is a blend of Silver, Gold, Platinum and Copper, used daily, it may help support our bodies natural defence system against disease also helping to promote renewed vitality and longevity.
The Original Colloids are the result of an electro-magnetic process that pulls microscopic particles (.001-.005 micron) from a rod of the appropriate metal into a liquid. These particles are suspended by a 21st century hi-tech electrolysis method in distilled rainwater using the Swiss 'Grander Living Waters' method as a carrier. These microscopic particles can more easily penetrate and travel throughout the body.
Colloidal Silver 50ml
Silver has been proven as a powerful, natural prophylactic/antibiotic, a natural germ-fighter in the field of health and well being.
Colloidal Gold 50ml
Around 1885, Colloidal Gold was commonly used in the America as the basis to help cure of dipsomania (uncontrollable craving for alcohol). Also known for its powers as an anti-inflammatory. It has been known to be effective for easing the pains and swellings of arthritis, rheumatism, bursitis, and tendonitis. It has been used as a remedy for digestive disorders, circulatory problems, depression, obesity, and burns. It is reputed to be a powerful glandular rejuvenate with life extension and brain function enhancing possibilities, particularly in cases of chills, heat flashes, and night sweats.
Colloidal Platinum 50ml
In homoeopathy this is a prominent, female remedy. It has been used for constipation, deafness, headaches, menstrual problems, nervous spasms, paralysis, numbness and irritability, breast cancer and senile dementia.
Colloidal Copper 50ml
In the homoeopathy copper is used to treat cramps, convulsions, nervous disorders, sexual organ imbalances, and mental and physical exhaustion from over-exertion of the mind such as migraine or from loss of sleep.
Ingredients:
Natural Silver, Copper, Gold And Platinum In Distilled Mountain Rainwater.
WARNING: People suffering with Wilson's Disease are advised to consult their Doctor before taking copper.
Dosage:  
1ml Directly under the tongue twice per day.