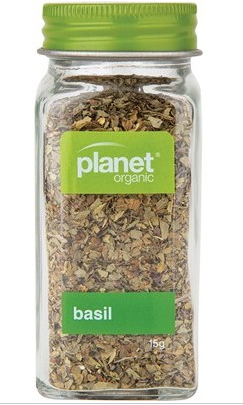 Planet Organic
Planet Organic Basil 15g
Health Benefits of Basil:
As a nutritional herb, basil provides us with several important nutritional substances such as phosphorus, potassium, vitamin A, Calcium and Vitamin C. Basil also contains the minerals of iron and magnesium.
Basil is known to carry a number of healthy effects, particularly on the cardiovascular system. This is because basil is such a good source of Vitamin A, the herb is believed to aid in providing good eyesight, healthy hair and healthy skin. Carotenoids, such as beta carotene are found in high amounts in basil. Carotenoids are made into vitamin A inside the body and are known to be powerful antioxidants.
Nutritionists feel that antioxidants are vital to us because they scavenge for dangerous free radicals in the body that can cause damage to the cells. Free radicals are a necessary part of metabolism but we also need antioxidants to clean the cells of them before they do damage to the DNA of the cells. Foods like basil, high in antioxidants, are important to our diet so that free radicals don't do us any damage.
Key Benefits:
Certified Organic

GMO Free

Gluten Free

Dairy Free

No Fillers

No Additives

Economy Pack

Suitable for Vegetarians & Vegans
Certified by ACO
Barcode
9321728001683