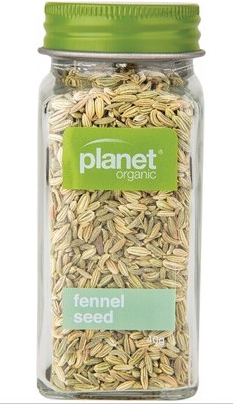 Planet Organic
Planet Organic Fennel Seeds 40g
Certified organic fennel seeds produce a strong anise flavour. Our organic fennel seeds can be ground in a pestle and mortar and mixed into salad dressings. Fennel is a wonderful accompaniment to seafood.
Health Benefits of Fennel Seeds:
Fennel seeds are an excellent super-herb that has been used for centuries for both culinary and medicinal purposes. Fennel is grown extensively across the planet but is native to Europe, The Middle-Eastern, China, India, and Turkey.
Fennel seeds have many health benefiting nutrients, compounds, anti-oxidants, minerals and vitamins that are known to help prevent and treat disease.
Most commonly, fennel seeds contain high amounts of flavonoid anti-oxidants like kaempferol and quercetin.
These anti-oxidants help to protect your body from cancers, infections, heart disease, high cholesterol, stroke, aging and other degenerative diseases.
Their powerful anti-oxidant properties make it also a powerful anti-inflammatory which prevent oxidation and inflammation; thus preventing many chronic conditions such as colitis, Crohn's (inflammatory bowel) disease and arthritis.
In India it is common to chew fennel seeds after meals to facilitate digestion – they help prevent and treat flatulence, expelling gases from your stomach.
They contain numerous essential oil compounds such as anethole, limonene, anisic, pinene and cineole which have digestive, carminative, and anti-flatulent properties.
The oils in fennel seeds help facilitate proper absorption of nutrients in your stomach and intestines. The oils also contain anti-acidic properties.
Fennel seeds are also concentrated with minerals like copper, iron, calcium, potassium, manganese, selenium, zinc, and magnesium.
In addition to minerals, they contain important vitamins including Vitamin A, vitamin E, vitamin C as well as many B-complex vitamins like thiamin, pyridoxine, riboflavin and niacin.
Fennel seeds can not only help prevent and treat constipation but can also act as a laxative with their high fiber content.
They help clear your bowels and their stimulating effect helps maintain the proper peristaltic motion of your intestines.
Fennel seeds when used in a tea have also been known to ease and regulate menstruation.
Fennel seeds have also been know to strengthen the eyes & hair, relax the body, sharpen the memory and have a cooling effect when one becomes over-heated.
Studies have also shown that Fennel may also inhibit the formation of certain tumors caused by cancer-causing chemicals.
Key Benefits:
Certified Organic

GMO Free

Gluten Free

Dairy Free

No Fillers

No Additives

Economy Pack

Suitable for Vegetarians & Vegans
Certified by ACO
Barcode
9321728001812