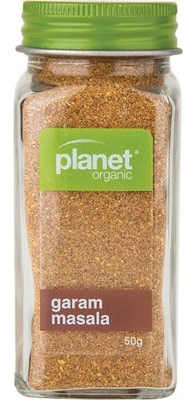 Planet Organic
Planet Organic Garam Masala 50g
Our certified organic garam masala is a blend of organic cinnamon, bay, cumin, coriander, cardamom, pepper, cloves and nutmeg. As a rule of thumb organic garam masala is added at the last step of cooking, almost like a fresh herb.
Health Benefits of Garam Masala:
These spices have been used for centuries for their medicinal and ayurvedic qualities, and some have been documented to help slow down the process of cellular aging, as well as promoting healthy weight and breakdown of excess fats.
Key Benefits:
Certified Organic

GMO Free

Gluten Free

Dairy Free

No Fillers

No Additives

Economy Pack

Suitable for Vegetarians & Vegans
Certified by ACO
Barcode
9321728005230