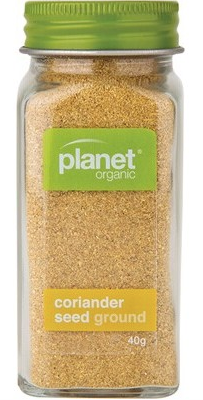 Planet Organic
Planet Organic Ground Coriander Seed 40g
$5.00
$6.00
you save $1.00
Coriander is also known as Chinese Parsley or Cilentro and is one of the most versatile herbs with all parts of the plant being used. Coriander is an essential ingredient in many cuisines especially Thai and Indian. Our certified organic coriander leaf can be used in many ways and adds a fragrance to many dishes.
Health Benefits of Coriander:
The health benefits of coriander include treatment of swellings, high cholesterol levels, diarrhea, Mouth ulcers, anemia, digestion, menstrual disorders, small pox, eye care, conjunctivitis, skin disorders, blood sugar disorders, etc.
Coriander, commonly known as Dhania in the Indian Subcontinent or Cilantro in the Americas and some part of Europe, is an herb which is extensively used around the world as a condiment or as a garnish or as a decoration on the dishes. Its scientific name is Coriandrum Sativum L. Its leaves and fruits have typical aroma and are used raw or dried in culinary.
Coriander seed and cilantro leaves have many known health benefits and researchers are finding more every day.
Here are 13 known benefits:
1. Protects against the Salmonella bacteria.
2. Reportedly works as a natural chelation treatment.
3. Aids in digestion and helps settle the stomach and prevent flatulence.
4. Is an anti-inflammatory that may alleviate symptoms of arthritis.
5. Protects against urinary tract infections.
6. Prevents nausea.
7. Relieves intestinal gas.
8. Lowers blood sugar.
9. Lowers bad cholesterol (LDL) and raises good cholesteraol (HDL).
10. A good source of dietary fiber.
11. A good source of iron.
12. A good source of magnesium.
13. Rich in phytonutrients and flavonoids.
Key Benefits:
Certified Organic

GMO Free

Gluten Free

Dairy Free

No Fillers

No Additives

Economy Pack

Suitable for Vegetarians & Vegans
Certified by ACO
Barcode
9321728005285