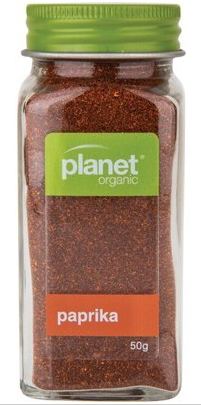 Planet Organic
Planet Organic Ground Paprika 50g
Paprika is made from the ground, dried fruits of the capsicum annum. Certified organic paprika is used in many cuisines to flavour and colour dishes. Usually associated with Hungarian goulashes and stroganoffs our organic paprika matches well with most meats.
Health Benefits of Paprika:
Humble tins of paprika reside in many cooks' spice drawers waiting for the annual moment when they will be sprinkled on top of the deviled picnic eggs. Paprika is so much more than a colorful garnish, it's a nutritional powerhouse loaded with health-enhancing benefits. Paprika is a versatile spice that adds depth and complexity to a variety of everyday foods, making it worth a second look as a tool in your culinary arsenal.
Paprika, which is commonly sold as a powdered spice, is actually a type of ground pepper, Capsicum annuum, which is in the same family as chili and bell peppers. This deep red spice can vary in taste from sweet to extremely hot and can also be bought in a smoked version. Paprika was originally grown in South America, but is best known for its use in Hungarian and Spanish dishes. In order to reap its many health benefits, try to use the sun dried, organic type, which is not exposed to the high temperatures of commercially produced paprika.
Vitamin C:
Paprika's top benefit is that it is extremely high in vitamin C. A whole paprika pepper is known to have six to nine times the amount of vitamin C as a tomato. Because of its high C content, paprika can also help you absorb iron-rich foods and may help your body fight common infections.
Capsaicin:
Peppers, especially those that are used to produce paprika, are loaded with capsaicin, the phytochemical that makes them taste hot. Capsaicin is known as a powerful anti-inflammatory, which can ease chronic conditions like arthritis and joint pain. Capsaicin also helps improve blood circulation, thereby improving conditions like cold feet and hands. Paprika also has plant enzymes that can help neutralize stomach acids, thus aiding digestion.
Key Benefits:
Certified Organic

GMO Free

Gluten Free

Dairy Free

No Fillers

No Additives

Economy Pack

Suitable for Vegetarians & Vegans
Certofied by ACO
Barcode
9321728005261