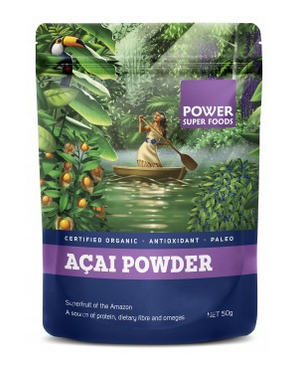 Power Super Foods
Power Super Foods Organic Acai Berry Powder 100g
$23.00
$26.00
you save $3.00
Pronounced "ah-sigh-ee", this superhealthy superfood is consistently named one of the planet's Top Ten AntiOxidant Superfruits. With a protein profile similar to an egg, an essential fatty acid profile similar to olive oil, low sugar and low GI, and an ORAC (antioxidant value) higher than blueberries, pomegranate, red wine and even Goji…….get powered up today !!
This royal purple jewel with the mild, faintly cocoa-berry taste has been snap frozen at harvest site and milled at low temperature into a powder for your convenience. Açai is absolutely loaded with nutrition: 19 Amino Acids, Vitamins A, B1, B2, C, E, and P (bioflavonoids), minerals like potassium, iron, phosphorous, and calcium, fibre content of 30%, trace elements, Omegas 6 and 9, and unusually for a fruit, protein!
Suggested Uses:
Add to yoghurt, smoothies, ice cream, fruit juice, water, milkshakes and even muesli!
Key Benefits:
Certified Organic

GMO Free

Raw

Vegan

Gluten Free

Low GI
Certified by ACO
Barcode
9332834004116