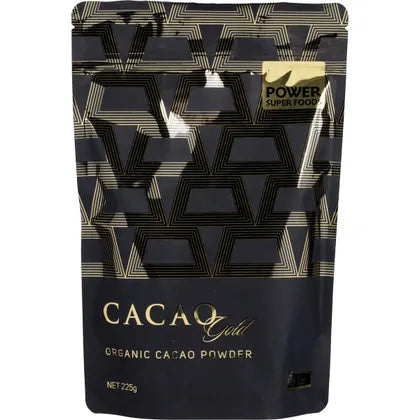 Power Super Foods
Power Super Foods Organic Cacao Gold Powder 225g
By now, everyone must have heard the many advantages of dark chocolate consumption, rich in antioxidants and polyphenols, protein and minerals like zinc, calcium, chromium, iron, potassium and magnesium - but here's another advantage with this very unique product. We are very proud that our Ecuadorian partners are applauded internationally for having taken a giant leap beyond just trading fairly and paying guaranteed premium crop prices direct to farmers... their compatriots reap brilliant long term benefits through our supplier's generous re-investment of part profits back into community development projects over there including:
1. Award winning conservation initiatives (tree nurseries for sustainable co-planting of endangered rainforest species)
2. Ingenious environmental programs (like replacing toxic disposables with solar rechargeable batteries in areas without reliable electricity)
3. Developing organic technical education and Special Needs curriculums for area schools (largely unavailable, yet desperately needed)
Suggested Uses:
So many different & delicious ways to enjoy! For example, use like cocoa powder in desserts, cookie batter, muffins, drinks, chocolate creations, raw foodie treats, smoothies, or sprinkle over ice cream, yoghurt, cheesecake, coffee or hot chocolate... feel free to experiment and become your own gourmet master chef! (Note: 15g = 1 heaped TBSP approximately).
Key Benefits:
Certified Organic

GMO Free

Raw

Gluten Free

Dairy Free

Vegan

Fair Trade
Certified by ACO
Barcode
9332834002402