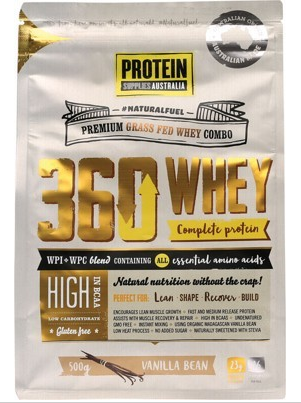 Protein Supplies Australia
Protein Supplies Australia 360 Whey Vanilla 500g
$32.00
$33.00
you save $1.00
Protein Supplies Australia 360 Whey Vanilla (WPI + WPC Combo) was formulated because people were asking for a great tasting, high protein shake they could take during the day when they're hungry.
So these clever people decided to create this perfect combination for those looking for a complete everyday shake that could serve many purposes.
It is highly recommend for people to use if they're wanting to lose some weight, as this would work perfectly with a well planned weight loss regime, and it doesn't stop there, because of the different break down times fast and slow it's also good as a post work-out shake.
Protein Supplies Australia 360Whey contains absolutely nothing artificial, is completely natural, quality affordable nutrition!
High Protein, Low Carb, Low G.I, Gluten-Free, High Digestibility, Free from anything artificial, Proteins used are Halal & Kosher, Low Fat, Fast and Slow breakdown, Undenatured, 100% natural, GMO-Free.
Ingredients:
Instantized cross flow undenatured whey protein isolate, letcithin, stevia, vanilla and natural vanilla flavour.
Key benefits:
Certified Organic

GMO Free

Gluten Free

Dairy Free

Gluten Free

Dairy Free

Suitable for Vegetarians
Not Certified Organic