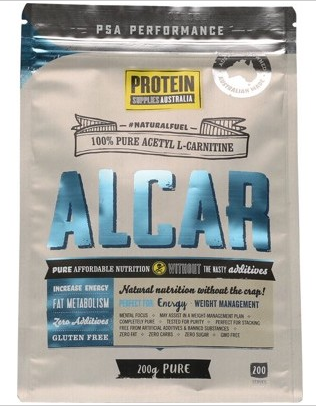 Protein Supplies Australia
Protein Supplies Australia Acetyl L-Carnitine 100% Pure Powder 200g
Do you like to use artificial sweeteners?
Love consuming excessive loads of crap & fillers?
Need to have products with artificial flavours & colours?
THEN, UNDER NO CIRCUMSTANCES SHOULD YOU USE OUR PRODUCTS.
Bring you...
Australia's best selling, MOST affordable, highest quality pure nutritional products.
Now that's a big claim, but we know we can back it up!
Acetyl L-Carnitine (ALCAR) has backed claims of anti-aging and nutrient regenerating properties. The effects of supplementing with them have been widely researched in many areas including exercise performance, weight loss, treatment of Alzheimer's and Parkinson's, diabetes, depression and many other neurological disorders.
Acetyl L-Carnitine is derived from the amino acids lysine and methionine. It is found in its highest levels in tissues that use fatty acids as their main fuel; such as the skeletal and cardiac muscles.
Acetyl L-Carnitine is an excellent training aid for energy, focus and weight loss. Athletes and Bodybuilders have long use ALCAR for training focus and to assist in cutting unwanted body fat.
Protein Supplies Australia Acetyl L-Carnitine 100% Pure Powder may assist with:
Completely Pure Product

Free From Nasty Additives

Antioxidant, Mental Focus & Performance

Enhance Physical Excerise

Assists Fat Metabolism & Weight Loss

No Additives or Fillers
Key benefits:
GMO Free

Gluten Free

Dairy Free

Halal & Kosher Approved

Suitable for Vegetarians
Not Certified Organic
Barcode:
4466888878791