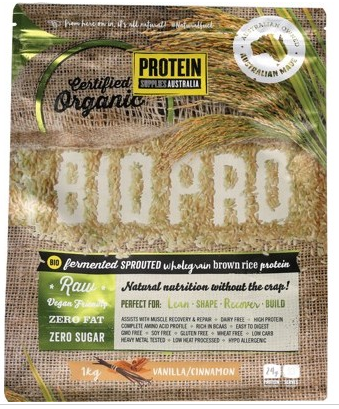 Protein Supplies Australia
Protein Supplies Australia Bio Pro Sprouted Vanilla Cin Rice Protein Powder 1kg
$45.00
$47.00
you save $2.00
In stock with supplier- ships within 5-7 business days

Bio fermented sprouted brown rice protein isolate. Our Sprouted rice protein isolate (90% protein) is a very special protein. Carefully crafted from sprouted, raw, organic certified wholegrain brown rice that has passed through a natural, bio fermentation process - which makes this one of the most highly digestible forms of protein on the market! Check out the nutritional panel, it's incredible! This is a complete protein with all essential amino acids and very little carbohydrates what-so-ever. Vegan or meat eater, pro-athlete or weekend warrior - this has everything you need!
Benefits:
Biofermented - easy digestion, no fat, soy free, gluten free, wheat free, lactose free, low carb, non gmo, vegan & vegetarian friendly, kosher, complete amino acid profile, hypo allergenic, raw, dairy free, 90% protein.
Serving Suggestions:
Shake, blend or stir 30g of this sprouted rice protein into 200-300ml of your favourite beverage & enjoy! Consume 2-3 servings on training days and 1-3 servings on non training days depending on your daily dietary requirements.
Ingredients:
Organic Cert. Fermented Sprouted Brown Rice Protein Isolate, Stevia, Natural Vanilla Flavour, Vanilla, Cinnamon Powder
Protein Supplies Australia Pure Rice Protein may assist with:
Low-Allergenic

Lactose Free


Easly Digested

High In Essential Amino Acids (EAA)

High In Branched Chain Amino Acids (BCAA)
Key benefits:
Certified Organic

GMO Free

Gluten Free

Dairy Free

Gluten Free

Dairy Free

Suitable for Vegetarians & Vegans
Certified Organic
Barcode:
8889965231504