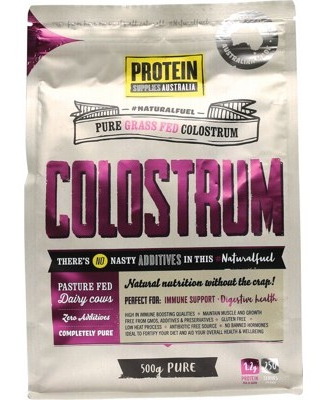 Protein Supplies Australia
Protein Supplies Australia Pure Colostrum 500g
$67.00
$72.00
you save $5.00
Do you like to use artificial sweeteners?
Love consuming excessive loads of crap & fillers?
Need to have products with artificial flavours & colours?
THEN, UNDER NO CIRCUMSTANCES SHOULD YOU USE OUR PRODUCTS.
Bring you...
Australia's best selling, MOST affordable, highest quality pure nutritional products.
Now that's a big claim, but we know we can back it up!
Chock full of Immunoglobulins (IgG), Protein Supplies Australia Colostrum is ethically sourced, pure and natural.
When taken as a supplement, colostrum can boost the immune system and help the body to burn fat and build lean muscle. Colostrum may also accelerate the healing of injuries, increase vitality and stamina, and have an anti-aging effect.
Protein Supplies Australia Colostrum 20% Immunoglobulin (IgG) may assist with:
Completely Pure Product, Containing No Hormones, No Preservatives, No Additives, No Gluten

GMO Free

Halal & Kosher Approved


Ethically Sourced, Respectfully Taken from the Animal

High in Immune Boosting Actives (IgG)

Promotes Healthy Intestinal Gut Flora
Key benefits:
GMO Free

Gluten Free

No Additives or Fillers

Halal & Kosher Approved

Suitable for Vegetarians
Not Certified Organic