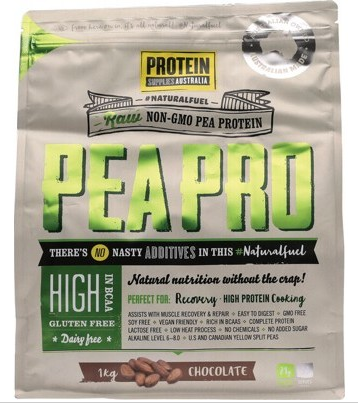 Protein Supplies Australia
Protein Supplies Australia Pure Pea Protein Isolate Chocolate 1kg
$40.00
$41.00
you save $1.00
Do you like to use artificial sweeteners?
Love consuming excessive loads of crap & fillers?
Need to have products with artificial flavours & colours?
THEN, UNDER NO CIRCUMSTANCES SHOULD YOU USE OUR PRODUCTS.
Bringing you...
Australia's best selling, MOST affordable, highest quality pure nutritional products.
Now that's a big claim, but we know we can back it up!
Protein Supplies Australia Pea Pro pure pea protein isolate is extracted from NON GMO golden yellow peas by a natural process to ensure maximum bio-availability. Pea protein has the most balanced amino acid profile of any plant based protein, making it an excellent choice for vegans.
It has a medium releasing nature as it is digested much slower than whey protein, making it ideal to take througout the day. It can also be combined with faster acting whey proteins to get varying release of different protein fractions and amino acids.
It is free from common allergens such as lactose and soy has a high digestibility rating. It is an ideal protein for people with such food intolerances.
Protein Supplies Australia Pure Pea Protein Isolate Chocolate may assist with:
Low-Allergenic

Lactose Free

Easly Digested

High In Essential Amino Acids (EAA)

High In Branched Chain Amino Acids (BCAA)
Key benefits:
GMO Free

Gluten Free

Dairy Free

Halal & Kosher Approved

Suitable for Vegetarians & Vegans