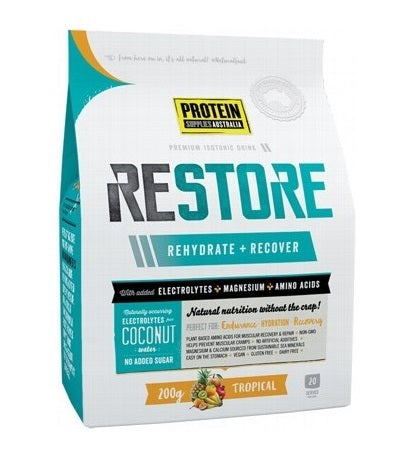 Protein Supplies Australia
Protein Supplies Australia Restore Tropical 200g
$27.00
$29.00
you save $2.00
In stock with supplier- ships within 5-7 business days

Do you like to use artificial sweeteners?
Love consuming excessive loads of crap & fillers?
Need to have products with artificial flavours & colours?
THEN, UNDER NO CIRCUMSTANCES SHOULD YOU USE OUR PRODUCTS.
Bringing you...
Australia's best selling, MOST affordable, highest quality pure nutritional products.
Now that's a big claim, but we know we can back it up!
Electrolytes + magnesium + amino acids.
Ingredients:
Coconut Water Powder, Plant Based Aminos - BCAA's, Glutamine, Sea Minerals, Magnesium, Potassium, Sodium, Calcium, Citric Acid, Natural Flavour, Stevia, Tumeric.
GMO Free

Gluten Free

Dairy Free

Suitable for Vegetarians & Vegans
Not Certified Organic
Barcode:
9350181000773