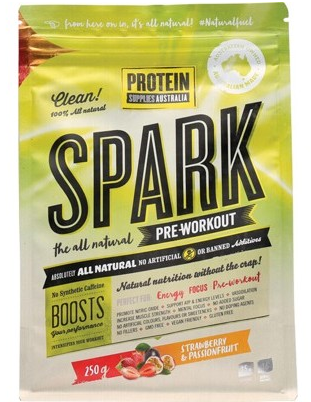 Protein Supplies Australia
Protein Supplies Australia Spark Pre-workout Strawberry & Passionfruit 250g
$27.00
$28.00
you save $1.00
In stock with supplier- ships within 5-7 business days
Be prepared, an explosive force as you take your first hit of SPARK! This product was designed for those people who didn't want to consume anything that was banned, toxic, artificial or dangerous or loaded with crap they couldn't pronounce but still wanted to use a pre-workout. The actives in SPARK are perfect for those looking to increase physical and mental performance prior to excercise.
Benefits:
Promote nitric oxide, Increase muscle carnosine levels, support atp + energy levels, increase muscle strength, vasolidation, antioxidant, gluten free, lactose free, no artificial colours - flavours or sweeteners, vegan friendly, no added sugar.
Serving Suggestions:
Begin with 5g of Spark in 100ml of water, you can then use upto 15g of SPARK per day depending on your tolerance. Consume around 15 minutes before excercise or physical activity. We do not recommend exceeding 15g per day.
Ingredients:
Dehydrated strawberry powder, dehydrated passionfruit powder, natural sweeteners - stevia and xylitol, beta alanine, Micronized creatine mono hydrate, L-arginine, L-tyrosine, L-Leucine, Taurine, Guarana, Citric Acid, Natural flavours, Beetroot powder, silica.
Warning:
This product contains caffeine, which is naturally occuring in guarana. if you are sensitive to the effects of caffeine, we do not recommend you using this product.
Not suitable for pregnant or breast feeding women or people under the age of 16.
GMO Free

Dairy Free

Gluten Free

Suitable for Vegetarians & Vegans