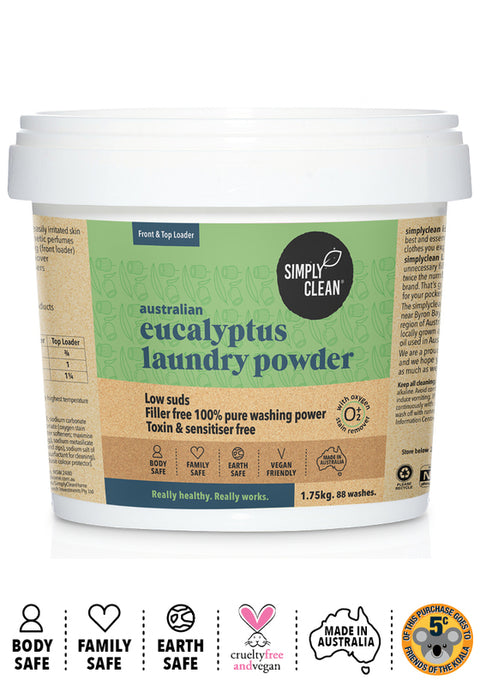 Simply Clean
Simply Clean Simply Australian Eucalyptus Laundry Powder 1.75kg
Simply Clean Australian Eucalyptus Laundry Powder works for both front and top loader washing machines. This eco friendly laundry powder is filler free and sensitiser free, so it's gentle on the skin. It's good for your pocket as well as the environment –as it is so pure.
1.75kg will give you 88 washes per pack - that's double the number of washes of Australia's leading laundry brands.

Simply Clean only use the best and essential ingredients, whilst always ensuring your clothes will be as clean as you would expect.

Featuring added O2 oxygen for tough stain remover.

Key Benefits
Toxin Free 
Sensitiser Free which is kind to sensitive & easily irritated skin
Safe for asthmatics
No phosphates, enzymes or synthetic perfumes
Grey water and septic safe
No animal testing or animal products
Family safe and earth safe
No SLS, SLES, parabens, mineral oils, methylisothiazolinone or diethanolamides.
No palm oil
Ingredients:
Pure Australian eucalyptus oil, sodium carbonate (washing soda for cleaning), sodium percarbonate (oxy-action sanitiser and stain remover), sodium citrate and polyacrylic acid and tetrasodium edta (water softeners; stop whites going grey), alcohol (plant derived ethanol), sodium metasilicate (mineral based, corrosion inhibitor to protect washing machine), alkylbenzenesulphonic acid/sodium salt (biodegradable surfactant), very low dose colour protector (biodegradable).