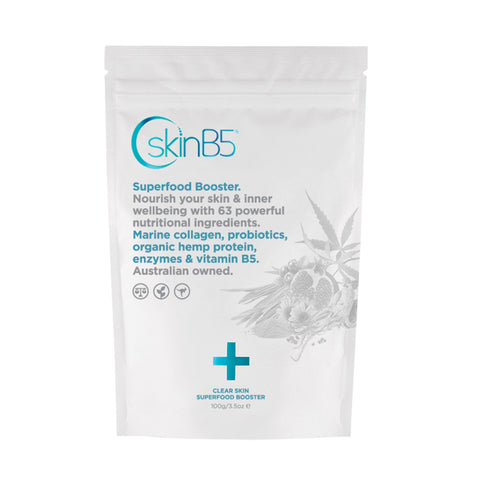 Skin B5
SkinB5 Clear Skin Superfood Booster 100g
$44.00
$45.00
you save $1.00
Nourish your skin & inner wellbeing with 63 powerful nutritional ingredients. Featuring marine source bioactive collagen peptides VERISOL®, probiotics, organic hemp protein, enzymes & vitamin B5. SkinB5's innovative food-based approach to skin wellness uses a combination of 63 specially selected super ingredients to supply your body with key vitamins, minerals, essential fatty acids, amino acids, digestive enzymes, probiotics & prebiotics. SkinB5's unique superfood booster also features the benefits of Marine Collagen (bioactive collagen peptides VERISOL®), Australian Organic Hemp Protein, Organic Zinc, Maca, Probiotics Lactobacillus & Bifidobacterium, Prebiotics, Vitamins A, B5, C, D & E, Omega-3, -6 & -9, Silica, Ashwagandha, Alkalising Greens & High Antioxidant Superfruits.
Benefits:

Daily skin balance
Nutrient rich, including collagen (marine source bioactive collagen peptides VERISOL

®)

Glowing skin, hair & nail

Probiotics, prebiotics & digestive enzymes

Supports immunity, stress management, internal harmony

Provides antioxidants and alkalising greens
Powerful ingredients:
We've put the research into ensuring our essential ingredients help you achieve a clear glowing complexion.

Organic Hemp Protein (10.4%), Spirulina (7.4%), Organic Flaxseed Flour, Inulin, Fish Collagen* (5%), Wheat Grass Powder (5%), Lecithin (Sunflower), Barley Grass Powder (4%), Organic Alfalfa Grass Powder (4%), Organic Amla Fruit Powder, Organic Noni Fruit Powder, Lemon Juice Powder, Pineapple Juice Powder, Ground Chia Seed, Antioxidant (Ascorbic Acid), Organic Acai Juice Powder, Organic Maca Root Powder, Chlorella Powder (Cracked Cell), Tomato Organic Powder, Apple Pectin, Acerola Berry Powder, Beetroot Powder (Beta vulgaris), Citric Acid, Watermelon Powder, Strawberry Juice Powder, Mangosteen Fruit Powder, Organic Pomegranate Juice Powder, Carica Papaya Fruit Powder, Cranberry Fruit Powder, Blueberry Juice Powder, Natural Vanilla Flavour, Organic Goji Berry Juice Powder, Organic Maqui Berry Powder, St Marys Thistle Powder, Astragalus Root Powder, Elderberry Juice Powder, Horsetail Herb Powder, Organic Kelp Powder, Colloidal Anhydrous Silica, Organic Carrot Juice Powder, Organic Green Tea Powder, Ashwaganda Root Powder, Siberian Ginseng Root Powder, Organic Echinacea purpurea Root Powder, Lemon Balm Powder, Organic Dandelion Leaf Powder, Ginger Root Powder, Organic Rosehip Powder, Organic Bilberry Fruit Powder, Slippery Elm Bark Powder, Organic High Vitamin D Mushroom Powder, Kakadu Plum Powder, Calcium Pantothenate (Vitamin B5), Organic Zinc (Orgen-Zn), Astaxanthin (Red Algae), Panax Ginseng Powder, Organic Turmeric Root Powder, Lemon Myrtle Leaf Powder, Lactobacillus rhamnosus LR-32, Bifidobacterium longum BL-05, Thaumatin, Bromelain Concentrate, Fungal Protease Concentrate.



*Marine source bioactive collagen peptides VERISOL®


Key Benefits:
GMO free
Sugar free
Salt free
Filler free

No Artificial Flavours & Colours or Preservatives.
Contains: Fish (Marine Collagen) & Soy.
Store in a cool, dry place

May contain traces of tree nuts, milk, eggs, sesame seeds, shellfish, sulphites & wheat.

Dosage:
SkinB5's clear skin superfood blend tastes terrific. Enjoy by adding a teaspoon (5g) to water, juice, milk (best in non-dairy), a protein shake, a smoothie, yoghurt or cereal. An ideal addition to salad dressing, a skin-friendly latte & DIY face mask recipes. Get creative! Use the revolutionary skinB5™ vitamin & skincare range as part of your skin wellness routine.