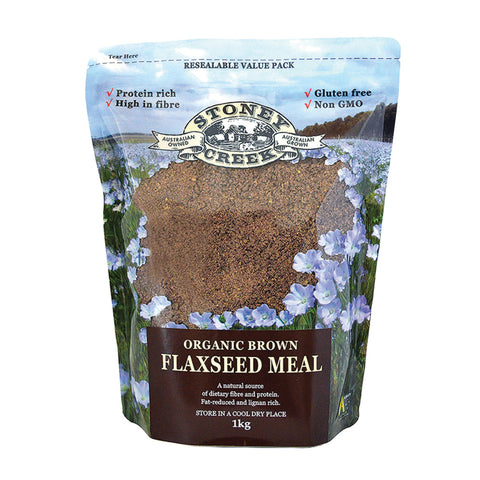 Stoney Creek
Stoney Creek Organic Flaxseed Meal Brown 1kg (International Source)
$16.00
$17.00
you save $1.00
Due to there being no Australian Linseed avalible to us, we have selected the finest certified seed internationally to continue our production. This Flaxseed Meal continues to hold the reputation of our quality products and is treated with the same high testing and pressing operations here by our family for you family.
Produced from the popular Brown seed, and grown under NASAA full organic certification. The nutritional benefits of Brown Flaxseed Meal are similar to those of Golden Flaxseed Meal, although the flavour is generally 'bolder'.
Flaxseed Meal is an excellent source of soluble and insoluble dietry fibre - which can lower blood cholesterol and aid in digestion.
It is also a natural source of protein and lignans (which the body may convert into benificial photo-oestrogens).
How To Use:
Sprinkle over porridge or cereal, and it is even delicious added to yoghurt and smoothies. 
Ingredients:
100% Organic Brown Flaxseed Meal (Fat [oil content] reduced).
Key Benefits:
Certified Organic

Organic Ingredients
Protein Rich
High in Fibre
Non GMO

Dairy Free

Gluten Free

Suitable for Vegetarians & Vegans
 Store in a cool dry place.