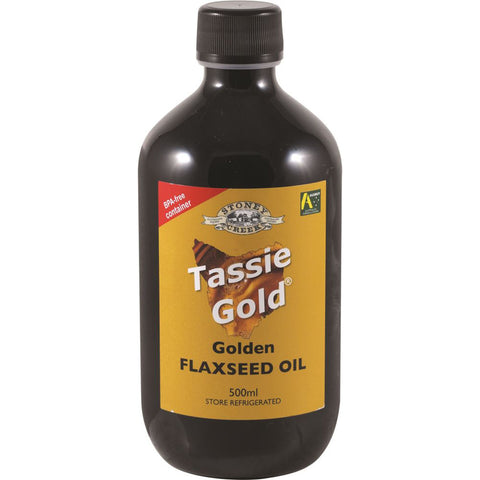 Stoney Creek
Stoney Creek TassieGold Flaxseed Oil 500ml
$15.00
$16.00
you save $1.00
TassieGold Golden Flaxseed Oil is a fresh, nutty-tasting vegetarian alternative to fish oil - at a most economical price. A rich source of Omega 3 (60% as ALA), TassieGold is cold-pressed from plump 'n shiny Tasmanian-grown golden flaxseeds.
This fresh, nutty-tasting oil can be used as a dipping oil, mixed with fruit smoothies, combined with other oils in salad dressings - or drizzled over rice, pasta or vegetables just prior to serving.
Do not cook with flaxseed oil. To maintain freshness and prolong shelf life, flaxseed oil should be kept refrigerated.
Ingredients:
Golden flaxseed oil (Not Genetically Modified), cold-pressed and unrefined.
Key Benefits:
GMO Free

Cold-Pressed & Unrefined

Gluten Free

Dairy Free

Suitable for Vegetarians & Vegans