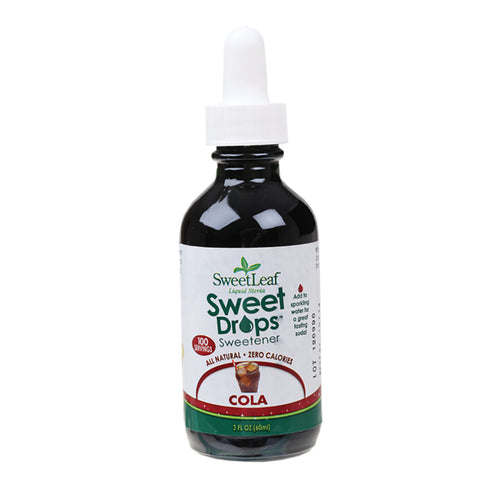 Sweet Leaf
Sweet Leaf Sweet Drops Stevia Liquid Cola 60ml
Why Choose SweetLeaf® Liquid Stevia Sweet Drops?
SweetLeaf® is the only chemical-free, zero-calorie, zero-carb, zero-glycemic index, natural sweetener there is. A little Sweet Drops flavor goes a long way, making every bottle an impressive, and tasty, value!
SweetLeaf® Liquid Stevia Sweet Drops™is made by taking the highest quality leaves of the stevia plant and extracting their naturally sweet taste with only cool, purified water. No chemicals. No alcohols. No additives that cover up the great taste nature made.
Award-winning SweetLeaf® Stevia Sweetener is unique in the marketplace because it's America's original stevia-based sweetener. Great tasting and all natural, its uses are endless – add a delicious sweetness to all your favorite foods and beverages!
The History of SweetLeaf® Stevie
When James May was introduced to the naturally sweet leaves of the stevia plant by a Peace Corps worker in 1982, he learned the high-quality, unprocessed stevia leaves can be 30 times sweeter than sugar. When processed, the sweetest parts of the plant, called glycosides, are extracted from the leaves and isolated. The combination of these compounds is 300 times sweeter than sugar and contains no calories or carbohydrates. Mr. May also learned the Guarani tribes of South America had consumed the plant for centuries and stood as testament to its safety. They called the plant Ka'a He'ê, which means "sweet herb."
Mr. May had always been personally and professionally keen on issues of health, but it was the extraordinary sweet taste of the stevia leaf that convinced him to change the direction of his life to fully explore this once-in-a-lifetime opportunity. Mr. May immediately invested nearly all of his life savings to become the first person to manufacture and market stevia products for the U.S. market.
To ensure a steady supply of premium stevia for his stevia products, Mr. May met directly with Latin American farmers and encouraged them to grow stevia that he would in turn buy. Providing the farmers with an incentive to grow crops for legal commerce has, over the years, helped undermine the narcotics economy that has plagued the region for decades. Through Mr. May's influence, a number of native farmers have chosen to grow stevia rather than crops such as marijuana and coca for cocaine.
Over the years, Mr. May challenged a number of government regulations before becoming the first company to receive GRAS (Generally Recognized As Safe) status for a line of stevia products.
Key Benefits:
GMO Free

No Chemicals, No Alcohols & No Additives

Dairy Free

Gluten Free

Suitable for Vegetarians & Vegans