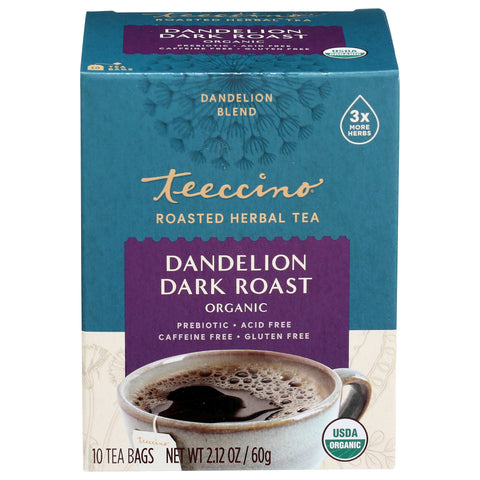 Teeccino
Teeccino Chicory Tea Dandelion Dark Roast x 10 Tea Bags
$8.00
$9.00
you save $1.00
Intense deep coffee notes from roasted ramón seeds, dandelion and chicory roots; unsweetened
French Roast gone dandelion; that was my inspiration when I created Dandelion Dark Roast for those who want to be gluten free. Remove the barley, add dandelion root, simple as that. But, what I didn't fully realize was how dark roasted dandelion roots would add their own bitter flare to make this brew uniquely appealing to coffee and tea purists alike. Now I've discovered that people love that dandelion bitter under-note and of course, love the detox properties dandelion root stimulates in their bodies.

Every cup combines the health benefits of roasted dandelion root with roasted ramón seeds, French chicory roots and carob pods. Dandelion and chicory roots contain inulin, a prebiotic soluble fiber that feeds your probiotics, along with antioxidants, minerals and bitter stimulating effects on liver function.

Roasted ramón seeds, from the Maya Biosphere Reserve, are also called "Capomo" or the "corn tree" by the Maya, who drank this roasted brew before the Spaniards ever brought the coffee tree to the Americas. Combining the flavors notes of both chocolate and coffee, ramón seeds add depth to this brew. With more dandelion root and herbs per serving than any other brand, Teeccino Dandelion Dark Roast produces a cup where the deep, full-bodied flavor of coffee meets the health benefits of nature's healing herbs.

No other brand of coffee alternatives offers certified gluten-free flavors. Even though Teeccino's Maya and Mediterranean flavors have been tested to have no detectable levels of gluten at 5 parts per million when brewed using a paper filter or a tea bag, you may be worried that you might still experience a reaction to the barley in Teeccino. Enjoy all of Teeccino's Dandelion certified gluten-free flavors knowing that you don't have to worry about any exposure to gluten!
Health Benefits:
Naturally caffeine free – no processing or chemical residue
Acid free – helps restore alkaline balance
Natural energy boost – from nutrients not stimulants
Antioxidants from carob, dandelion roots and ramón seeds
Contains heart-healthy potassium and soluble fiber
390 mg of inulin extracts naturally into your cup from chicory roots during steeping
Ingredients:
Roasted organic carob, organic chicory, organic dandelion root, organic ramón seeds, natural coffee flavor*
Produced on machinery that also processes almonds
*All Teeccino flavors are extracted from plants and comply with organic standards.
Detail:
Teeccino tea bags make brewing Teeccino easy and convenient at home or on the go!
Each tea bag contains 6g of Teeccino. Regular tea bags only hold 1 – 2g. Teeccino tea bags have more than 3 times the product as regular tea bags to create a full-bodied brew.
The exact same Teeccino grounds are in the tea bags as in our all-purpose-grind bags. Tea bags are simply Teeccino in a filter bag.
Each tea bag is individually wrapped in an envelope to seal in flavor and make it easy to transport wherever you go.
Certified 100% compostable tea bag filter paper. Oxygen-bleached.
100% recycled carton: 70% post consumer material.
Instructions:

When opening the envelope give a little shake at the top to move the tea bag to the bottom of the envelope. This makes sure the filter bag is below the tear-point in the envelope.
Pour 8 oz of boiling water over the tea bag in a cup and steep for 3-5 minutes.
Dunk the bag several times in the beginning for the best brew.
Use 2 tea bags for a stronger brew in a larger mug or tea pot.
Add milk, non-dairy milk and sweetener as you prefer.
Key Benefits:
Organic Ingredients

GMO Free

Safe for Pregnant Women & Nursing Mothers

Dairy Free

Suitable for Vegetarians & Vegans

Kosher