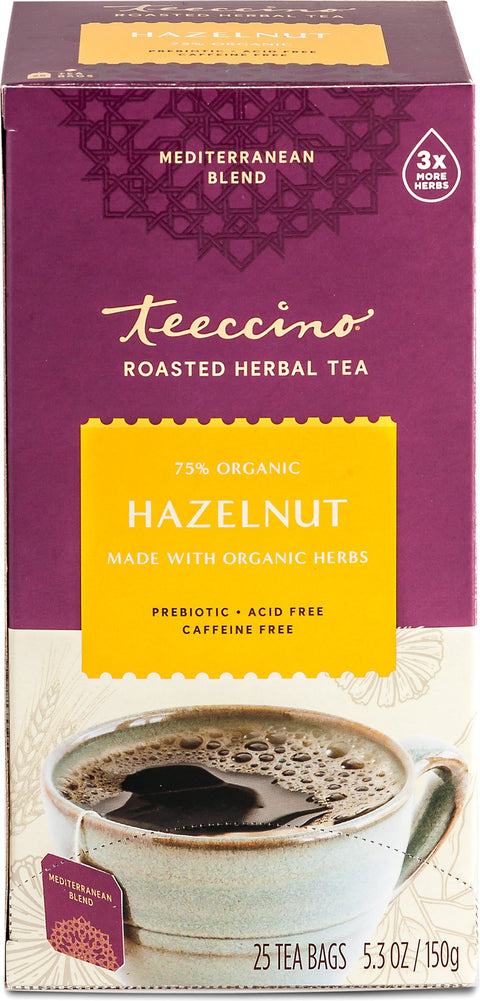 Teeccino
Teeccino Herbal Coffee Hazelnut X 25 Tea Bags
Teeccino Mediterranean Hazelnut Herbal Coffee is a 75% organic, naturally caffeine free, non-acidic Medium Roast. Teeccino Mediterranean Hazelnut Herbal Coffee posesses a buttery rich body of Turkish hazelnuts and golden roasted almonds slightly sweetened by dates and figs, which is a traditional coffee flavoring in Turkey, compliments the deep roasted flavor notes of carob, barley and chicory. Now you can enjoy a steaming cup of deliciously rich, deep-roasted, fresh brewed flavor that delivers all the satisfaction without the caffeine and acidity of coffee! Teeccino is a nutritious blend of Mediterranean herbs, grains, fruits, and nuts that are roasted and ground to brew and taste like coffee. Every cup offers you many health benefits:
Naturally caffeine-free - no processing or chemical residues (Safe for Pregnant Women & Nursing Mothers)
Non acidic - helps restore alkaline balance
Natural energy boost - from nutrients, not stimulants
Heart-healthy potassium and soluble fiber
Prebiotic - inulin from chicory root supports beneficial microflora that improve digestion, elimination, and intestinal health
Tasting Notes:
The richness of roasted almonds layers a delicious nuttiness over a robust, full-bodied brew lightly accented with the sweetness of dates and figs. Perfect for those who normally put sugar in their coffee; many find it unnecessary to sweeten the Mediterranean flavors.
Now you can enjoy a steaming cup of deliciously rich, deep-roasted, frsh brewed falvor that delivers all the satisfaction without the caffeine and acidity of coffee! Teeccino (tee CHEE no) is a nutritious blend of herbs, grains, fruits and ramon nuts, a nutrient-rich food of the Maya civilization, that are roasted & ground to brew and taste like coffee.
Enjoy Teeccino Many Ways
For an energy pick-up and low-calorie snack

Delicious dessert beverages

Nutritious drink for kids too!
About Teeccino Herbal Coffee
Teeccino Caffeine-free Herbal Coffee is a delicious blend of herbs, grains, fruits and nuts that are roasted and ground to brew and taste just like coffee.
Coffee lovers are attracted to Teeccino's full-bodied, dark roasted flavor and its nutritious health benefits. Those who can no longer drink coffee may experience caffeine withdrawal, and weaning oneself off coffee with Teeccino is a great way to avoid these effects, by quitting caffeine painlessly.
Teeccino allows coffee drinkers to keep their cherished coffee ritual with all the enjoyment and satisfaction of a freshly brewed cup! Unlike instant coffee substitutes, Teeccino brews just like coffee in all types of coffee brewers. Teeccino prefers the term "herbal coffee" or "coffee alternative" to "coffee substitute" since no one calls herbal tea a "tea substitute", now do they?
Teeccino Frequently Asked Questions
Is Teeccino all natural and healthy for me?
Yes! Teeccino is created from all natural ingredients that are nutritional and have been consumed by humans for thousands of years. Teeccino is low in calories, has only three grams of carbohydrates, one gram of fiber, and no fat.
What do you mean by herbal coffee?
Herbal coffee is brewed from herbs that have been roasted and ground to brew and taste like coffee. Most people are aware that there is no "milk" in soy milk, and there is no "burger" in a veggie burger. However, many people don't remember that there is no "tea" in herbal tea.
Tea always used to refer to Camelia sinensis, the plant that has been grown for centuries to produce black tea. But now they have green tea, red tea, white tea, and herbal tea. The term "tea" has become a generic term for leaves, bark, flowers, roots and spices that are brewed in hot water like true tea. Teeccino hopes that one day people will also understand "herbal coffee" as easily as they now understand soy milk!
How do I quit coffee?
Over a two week period, start blending Teeccino with your coffee. Begin with 3/4 coffee, and 1/4 Teeccino and gradually increase the amount of Teeccino until you are drinking 100% Teeccino. Herbal tonics and nutritional supplements can also aid you in restoring your own natural energy supply.
Will Teeccino give me an energy boost?
Many people experience an energy lift from drinking Teeccino. The nutrients in Teeccino are in liquid form, making them very bio-available and quickly absorbed. Teeccino replenishes potassium, an electrolyte mineral that stimulates nerve impulses, helps oxygenate the brain, and enhances athletic performance.
The potassium in Teeccino is completely natural, coming from the ingredients themselves. Sports drinks rely on added potassium to achieve the same effect, but Teeccino's natural potassium is at an even higher per serving quantity than sports drinks. Thus many people find Teeccino makes a re-energizing drink after workouts.
Another factor that may explain why people experience an energy lift from Teeccino is the pinitol that is naturally present in carob pods. Pinitol has been shown to act like insulin by making cells receptive to taking in glycogen, the energy component in the blood. The natural pinitol in carob may help people who are insulin resistant by increasing the ability of their muscles to use glycogen.
What makes Teeccino's flavors natural?
Teeccino uses only pure, natural flavors made from flavoring constituents that are extracted from natural ingredients like fruits, spices, herbs and even coffee. Teeccino flavors do not contain any constituents from meat, seafood, poultry, eggs, or edible yeast. Teeccino does not allow any monosodium glutamate, propylene glycol, or preservatives in its flavors.
All Teeccino flavors are 'organic compliant' which means that no ingredients are allowed in them that have been extracted using synthetic solvents or that are not permissible in organic products according to the USDA National Organic Program.
Is there caffeine in the natural coffee flavor in Teeccino?
Flavor houses extract the flavor components from all natural ingredients in order to create natural flavors. In the case of Hazelnut flavor, the flavor is extracted from a hazelnut paste and other nut pastes. In the case of coffee flavor, the components of coffee flavor are extracted from a number of ingredients that include both coffee, chicory and even, believe it not, garlic! Who would imagine that coffee and garlic share the same flavor component?
The expertise of flavor chemists allows them to use natural ingredients to derive flavors without getting all the components of each source. Thus it is possible to produce coffee flavor without caffeine, which in any case doesn't contribute to the flavor of coffee. Watch out though for coffee flavored ice cream, yogurt, etc. because these foods usually contain a coffee concentrate or even ground coffee beans that do have caffeine. I make sure that the flavors they use are completely natural and don't contain harmful ingredients like propylene glycol, a petroleum product that is added to many food and skin care products, or MSG, preservatives, etc.
Does Teeccino buy fair trade ingredients?
Most of Teeccino's ingredients are grown in Europe & the USA by first world farmers. Teeccino sources organic chicory in India and wild-crafted ramon nuts in Guatemala, which allows them to work in developing countries with small family farmers and rainforest villages. These ingredients create new trade that provides more economic opportunities in regions where sources of income are scarce.
Fair trade is very important for commodity-driven products where exploitation is common. Creating new trade provides more ways to raise the quality of life for rural communities. By drinking Teeccino, you join Teeccino in supporting families devoted to organic values in both first world and developing countries.
Is Teeccino good for people with acid reflux, GERD & IBS?
Yes! Teeccino has many customers who drink Teeccino because they gave up coffee after being diagnosed with acid reflux and/or inflammatory bowel disease like IBS. Coffee, both caffeinated and decaffeinated, is highly acidic and stimulates an increase in gastric acids. Coffee is also shown to speed up the process of gastric emptying, which may lead to acidic contents passing into the small intestine too soon. This could injure the intestinal tissue causing very unpleasant symptoms.
Teeccino's potassium content will help correct symptoms of metabolic acidity. Inulin, a soluble fiber in Teeccino that comes from chicory root, supports a healthy population of beneficial microflora in both the gut and the colon. If you suffer from digestive disorders, Teeccino highly recommends weaning yourself off of coffee using the Teeccino 2 week program. Also, taking probiotics when you first start drinking Teeccino will help establish the good bacteria for the inulin to support.
Does Teeccino have an acidic or alkaline effect in the body?
Drinking Teeccino helps you reduce acidity in your body in two ways:
First, it provides the alkaline mineral, potassium, which your body uses to neutralize acidity and restore alkaline balance.

Second, the soluble fiber, inulin, from chicory in every cup of Teeccino supports a healthy population of beneficial microflora, which enhances your digestion and increases the bio-availability of minerals. By increasing your daily intake of inulin, you improve your ability to absorb the alkaline minerals calcium, potassium, magnesium, cobalt, and copper that a healthy person needs to maintain the body's natural alkaline balance.
Does Teeccino need to be refrigerated like coffee?
No! Teeccino won't go stale like coffee because it doesn't have coffee oils which go rancid if unrefrigerated. Just replace the plastic cap on your can of Teeccino and it will last for at least two years. Brewed Teeccino can last up to five days in your refrigerator making it easy to drink iced Teeccino in the summer.
Is Teeccino GMO Free?
Teeccino is completely GMO free. Fortunately, Monsanto and others haven't seen fit to tinker with the genetic composition of most of the ingredients that are used in Teeccino. Teeccino is vigilant however with all their suppliers requesting a guarantee that the ingredients they supply do not contain GMOs. There is some GMO experimentation with barley to make it resistant to a fungus called barley scab, but fortunately it is still restricted to the laboratory and has not been successful so far!
Are the ingredients in Teeccino organic?
Teeccino's seven Teeccino Mediterannean flavors (Almond Amaretto, Chocolate Mint, Hazelnut, Java, Mocha, Original & Vanilla Nut) are certified as 75% organic. Their Maya flavors (French Roast (formerly Caffé), Chai & Chocolaté) are certified USDA Organic which means that at least 95% of their ingredients are certified organic. Their Boutique flavors have a selection of both USDA Organic and 85% organic variations.
Carob, barley, chicory root, and ramon nuts used in Teeccino are all certified organic. Some of Teeccino's other ingredients are organic too, but they may not be declared certified on their label due to problems with consistent supply. Any ingredient listed as organic on the label is certified by Quality Assurance International of San Diego, CA.
Does Teeccino's grind work in all the different brewing methods?
Yes! Teeccino contains a variety of ingredients which are each ground to different specifications. This composite grind allows Teeccino to be brewed in a variety of ways; from a drip coffee maker to a French press pot or an espresso machine.
Is Teeccino safe for pregnant women and nursing mothers?
Yes! All the herbs in Teeccino have been in the human diet for thousands of years. There are no stimulants or drugs like caffeine that could cause uterine contractions or hyperactivity by the infant. Teeccino is nutritious for both Mom and baby.
Herbal Tea & Herbal Coffee: Their Origins
Teeccino is the creation of Caroline MacDougall, an award winning herbal beverage designer for such companies as The Republic of Tea, Yogi Tea, Uncle Lee's Tea, and Organic India. Caroline chose nutritious ingredients that have been safely consumed as foods for thousands of years to create the rich body of Teeccino. Teeccino tastes so much like coffee that people think there must be coffee in it!
When herbal tea was introduced to the American market in the early 1970's, tea drinkers complained that herbal tea wasn't really tea at all since it doesn't contain Camellia sinensis, the caffeine-containing plant known as "tea" from which they get black tea, green tea, oolong tea, and white tea. Tea connoisseurs still think that herbal tea should be called an infusion or like the French and Italians call it, a "tisane". But Americans are more practical. If it brews and looks like tea, but it's caffeine-free and made from herbs, it's simply called herbal tea.
When the 1990's came along and coffee bars were being opened everywhere, Caroline was inspired to create Teeccino, a new herbal beverage that brews, looks and tastes like coffee although it's made from naturally caffeine-free herbs. In the beginning, she called Teeccino an "herbal espresso" because she began brewing it in an espresso machine, but finally, it dawned on her that everyone wanted to brew Teeccino whichever way they preferred to brew coffee. Of course, she realized, Teeccino is herbal coffee! It was one of those things that after you say it, it's so obvious, you wonder what took you so long.
Both tea and coffee contain caffeine, a drug that triggers the body's stress response called the "flight or fight" syndrome. Too much caffeine can aggravate stress and many other health conditions whose symptoms are made worse from caffeine consumption. Herbal beverages offer a wide variety of healthful properties without any caffeine so they can be drunk any time of the day and as much as you like!
Herbal teas and herbal coffees contain herbs that have been consumed over many millennia for their healthful and medicinal properties. Herbal teas and herbal coffees are made from herbs that are safe to drink on a daily basis. Rest assured that pharmaceutical herbs that shouldn't be consumed regularly are not used in herbal beverages or wellness teas.
Teeccino hopes you enjoy the many herbal beverages Caroline has developed for your tasting pleasure and to improve your health.
Ingredients:
Roasted organic carob, organic barley, organic chicory, dates, almonds, organic dates, natural hazelnut flavor, figs.

Contains: Almonds.
Key Benefits:
Organic Ingredients

GMO Free

Safe for Pregnant Women & Nursing Mothers

Dairy Free

Suitable for Vegetarians & Vegans

Kosher