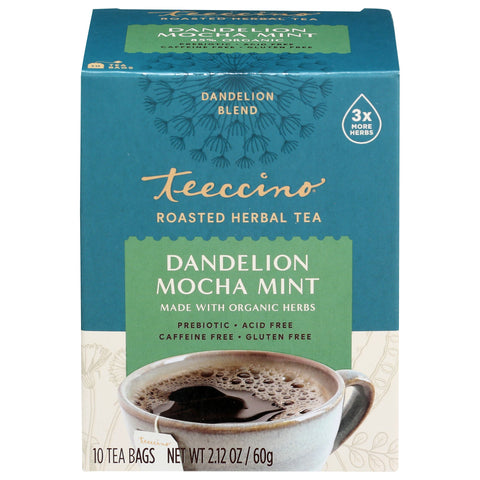 Teeccino
Teeccino Chicory Tea Dandelion Mocha Mint x 10 Tea Bags
$8.00
$9.00
you save $1.00
Sip the coolness of peppermint leaves infused into deep roasted dandelion and chicory roots with the lush richness of cocoa powder to give this brew a chocolatey finish.
Take roasted cacao powder from which heavenly chocolate is created and add a spike of green peppermint leaves to make a cool contrast against dark coffee notes coming from chicory and dandelion roots. Voila! Now you have a brew that has the depth and heights along with everything in between to entrance you endlessly. Truly your taste buds will never tire of this flavor and you can equally enjoy it either hot or iced. Both are divine…well at least they'll make you feel divine!

If you're seeking a digestive stimulant by the way, peppermint is famed for relieving intestinal complaints while the bitters in dandelion and chicory roots kick your liver and gallbladder into action. On top of that, these two roots happen to be nature's highest sources of inulin, the prebiotic soluble fiber that feeds your probiotics ~ those triillons of gut microflora that are responsible for creating vitamins, immune metabolites, and healthy digestion and elimination. They do everything from reducing inflammation to influencing your food cravings. Feed them and you shall thrive!
Health Benefits:
Naturally caffeine free – no processing or chemical residues
Acid free – helps restore alkaline balance
Natural energy boost – from nutrients not stimulants
Antioxidants from carob, dandelion roots, peppermint, cocoa, dates, figs and almonds
Contains heart-healthy potassium and soluble fiber
390 mg of inulin extracts naturally into your cup from chicory roots during steeping
Ingredients:
Roasted organic carob, organic chicory, organic dandelion root, organic dates, almonds, natural mocha flavor*, organic cocoa powder, peppermint leaf, organic organic figs, organic peppermint oil.
Contains: Almonds
*All Teeccino flavors are extracted from plants and comply with organic standards.
Detail:
Teeccino tea bags make brewing Teeccino easy and convenient at home or on the go!
Each tea bag contains 6g of Teeccino. Regular tea bags only hold 1 – 2g. Teeccino tea bags have more than 3 times the product as regular tea bags to create a full-bodied brew.
The exact same Teeccino grounds are in the tea bags as in our all-purpose-grind bags. Tea bags are simply Teeccino in a filter bag.
Each tea bag is individually wrapped in an envelope to seal in flavor and make it easy to transport wherever you go.
Certified 100% compostable tea bag filter paper. Oxygen-bleached
100% recycled carton: 70% post consumer material.
Instructions:

When opening the envelope give a little shake at the top to move the tea bag to the bottom of the envelope. This makes sure the filter bag is below the tear-point in the envelope.
Pour 8 oz of boiling water over the tea bag in a cup and steep for 3-5 minutes.
Dunk the bag several times in the beginning for the best brew.
Use 2 tea bags for a stronger brew in a larger mug or tea pot.
Add milk, non-dairy milk and sweetener as you prefer.
Key Benefits:
Organic Ingredients

GMO Free

Safe for Pregnant Women & Nursing Mothers

Dairy Free

Suitable for Vegetarians & Vegans

Kosher