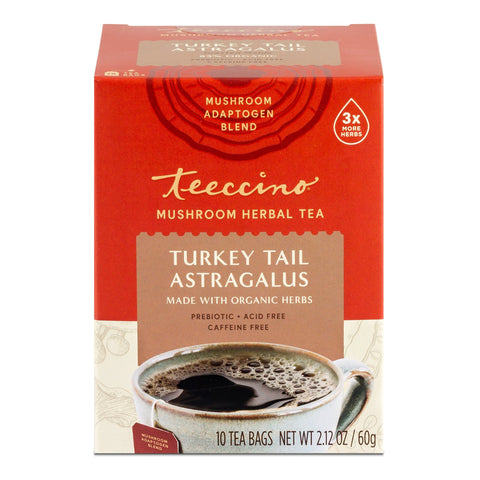 Teeccino
Teeccino Turkey Tail Astragalus Mushroom x 10 Tea Bags
$9.00
$10.00
you save $1.00
Restore harmony with nutritious turkey tail mushrooms and Asia's strengthening astragalus root accented by toasted maple over roasted chicory; lightly sweetened with dates and figs.
The rock stars of the plant & mushroom kingdoms are blended together to infuse ultimate health protection into your cup. Here's the skinny: Adaptogens help your body adapt to all kinds of stress while giving a boost to your endurance and immunity. We can all use more of that!

Turkey Tail, used for thousands of years in Asia for balance and support, is paired with astragalus, the popular herb the Chinese eat in soup to ward off illness. Blended with prebiotic chicory, roasted carob and barley, experience bold, rich flavor with adaptogens fortifying your defenses!

Teeccino's selection of adaptogenic mushrooms optimally paired with adaptogenic herbs are blended to enhance their combined wellness benefits. "Fruiting bodies" are what we think of as mushrooms while mycelium are like the roots and branches of mushrooms. I decided to include both parts of the mushrooms in Teeccino Mushroom Adaptogen Herbal Teas because each provides valuable health benefits. The synergy of all these mushroom and herbal adaptogens blended together brings delicious well-being to your cup.
Health Benefits:
Naturally caffeine free – no processing or chemical residue
Acid free – helps restore alkaline balance
Natural energy boost – from nutrients not stimulants
Antioxidants from carob, astragalus root, turkey tail mushroom, dates and figs
Contains heart-healthy potassium and soluble fiber
Prebiotic – inulin from chicory roots feed your probiotics, the beneficial microflora that improve gut health, regularity and supports your immune system. 390 mg of inulin extracts naturally into your cup from chicory roots during steeping.
Ingredients:
Carob pods*, chicory root*, barley*, astragalus root* (Astragalus propinquus 600mg), dates, turkey tail extract* (Trametes versicolor fruiting body and mycelium blend: 300mg) natural toasted maple flavor, figs*.
*Certified organic ingredients
Produced on machinery that also processes almonds.
*All Teeccino flavors are extracted from plants and comply with organic standards.
Detail:
Teeccino tea bags make brewing Teeccino easy and convenient at home or on the go!
Each tea bag contains 6g of Teeccino. Regular tea bags only hold 1 – 2g. Teeccino tea bags have more than 3 times the product as regular tea bags to create a full-bodied brew.
The exact same Teeccino grounds are in the tea bags as in our all-pupose-grind bags. Tea bags are simply Teeccino in a filter bag.
Each tea bag is individually wrapped in an envelope to seal in flavor and make it easy to transport wherever you go.
Certified 100% compostable tea bag filter paper. Oxygen-bleached.
100% recycled carton: 70% post consumer material.
Instructions:

When opening the envelope give a little shake at the top to move the tea bag to the bottom of the envelope. This makes sure the filter bag is below the tear-point in the envelope.
Pour 8 oz of boiling water over the tea bag in a cup and steep for 3-5 minutes.
Dunk the bag several times in the beginning for the best brew.
Use 2 tea bags for a stronger brew in a larger mug or tea pot.
Add milk, non-dairy milk and sweetener as you prefer.
Key Benefits:
Organic Ingredients

GMO Free

Safe for Pregnant Women & Nursing Mothers

Dairy Free

Suitable for Vegetarians & Vegans

Kosher