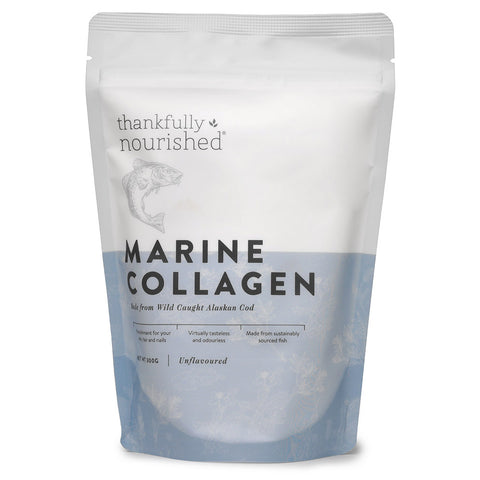 Thankfully Nourished
Thankfully Nourished Marine Collagen 300g
A premium grade marine collagen, perfect for nourishing your skin!
Thankfully Nourished Marine Collagen is a premium grade collagen, derived from Alaskan Cod and extracted using a natural hydrolysis process using enzymes instead of chemicals or heat. The resulting collagen is virtually tasteless, odourless and free from impurities. Thankfully Nourished Marine Collagen is your best choice of nourishment for healthy skin, hair and nails.
Thankfully, our Marine Collagen is:
Highly bioavailable (90% absorption rate)
The perfect molecular weight (3000 - 5000 Daltons) to ensure great absorption and also great taste Naturally hydrolysed using enzymes (instead of chemicals or heat)
Sourced exclusively from sustainable, wild-caught Alaskan Cod
Processed in Japan to the highest purity standards
Stringently tested by independent laboratories to ensure quality and safety
Free from heavy metals, GMO's and radiation
Virtually odourless and tasteless
Gluten, dairy and soy free
Designed to nourish you from the inside out!
Allergens: 
Contains fish. Not recommended during pregnancy.
Ingredients:
100% Marine Collagen, derived from sustainably sourced Alaskan Cod.