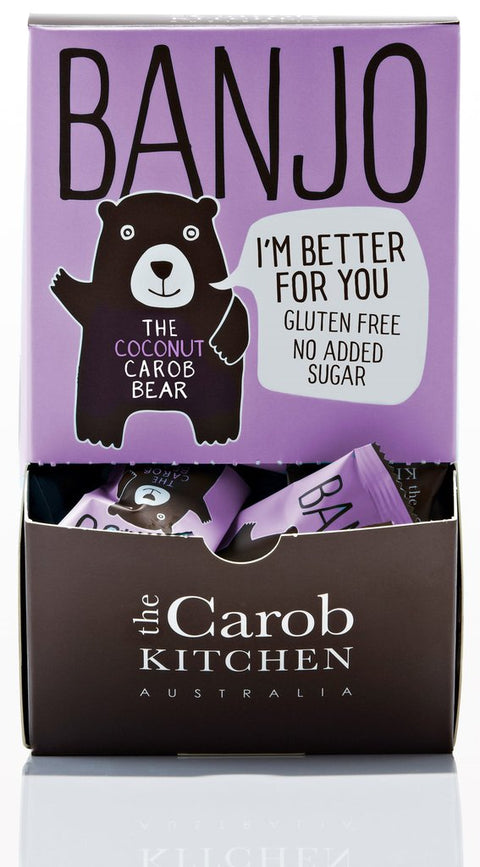 The Carob Kitchen
The Carob Kitchen Banjo Carob Coconut Bear 50x15g
$37.00
$39.00
you save $2.00
The Carob Kitchen brings you Australia's first Carob Bar (Bear) range made with Australian grown Carob and real Cocao Butter.
Made from Bean to Bar (Bear), we have added only the purest of natural ingredients to blend a mild yet naturally sweet, smooth carob bar.
Here at the Carob Kitchen, we pride ourselves on being ethical. Our Carob Milk Bar range contains NO Palm Kernel Oil and is grown and made in Australia. Not to mention all the other benefits.
No Added Sugar - naturally sweet from the sweetness in our carob beans.
Gluten Free - for those who choose to go without.
Caffeine Free - a stimulant often the cause of migraines and addictions.
Theobromine Free - a stimulant often the cause of migraines and addictions.
Made with Real Coco Butter - free from hydrogenated fats. No Palm Kernel Oil.
Our Carob Bar range is also:
Rich in Antioxidants

High in Fibre

High in Protein

Contains Vitamin A. B, B2, B3 & D

Preservative Free
Made with Natural Ingredients:
Milk solids, Cocoa Butter, Organically grown Carob powder (25.5%), Natural Vanilla extract, Toasted Coconut, Emulsifiers,(GMO free) Soy Lecithin.
Did you know?
Our Carob Milk Bar has over seven times the amount of fibre than most chocolate bars, not to mention over one and a half times LESS SUGAR, no caffeine and is a rich source of calcium.
While your taste buds are being treated to a party, your insides are getting some love too.
Key Benefits:
Organic Ingredients

Gluten Free

Less Sugar

No Caffeine

Suitable for Vegetarians
Please Note: This is a temperature sensitive product. During the hotter periods of October - April, products are prone to melting. Please order at your discretion. We do not recommend leaving these products outdoors for any periods of time.