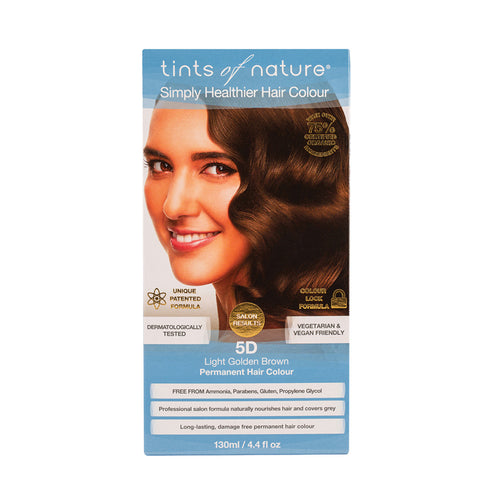 Tints of Nature
Tints of Nature - Light Golden Brown - 5D 130ml
$16.00
$18.00
you save $2.00
In stock with supplier- ships within 5-7 business days
Tints of Nature is a highly effective range of hair colouring and treatment products including permanent and semi-permanent colours, highlighters, lighteners and shampoos, conditioners, styling products and scalp treatments. Our unique, advanced formulas are as natural and gentle as possible, containing Certified Organic ingredients of the highest possible quality.
Tints of Nature contains no harsh chemicals, such as resorcinol, nonoxynol, parabens, napthol or ammonia, to ensure damage-free results without compromising on colour.
Contains no Ammonia or Ammonia Substitutes:

Allows damage free results (ammonia swells the hair shaft and lifts the cuticle)

Does not take the hair as far from its isometric point as other leading colours:

Maintains the hair's natural moisture and protein balance;

Leaves no staining on the skin;

Smells pleasant to use with no ammonia gas to be inhaled.

Contains No Parabens

Contains Certified Organic Ingredients, resulting in a purer overall product:

Certified Organic Aloe Vera;

Certified Organic Comfrey Extract;

Certified Organic Orange and Grapefruit Extract;

Certified Organic Chamomile;

Contains no animal ingredients and product is not tested on animals.
Key Benefits:
Organic Ingredients

GMO Free

No harsh chemicals

Sulphate Free

No Animal Testing

No Animal Ingredients

Suitable for Vegetarians