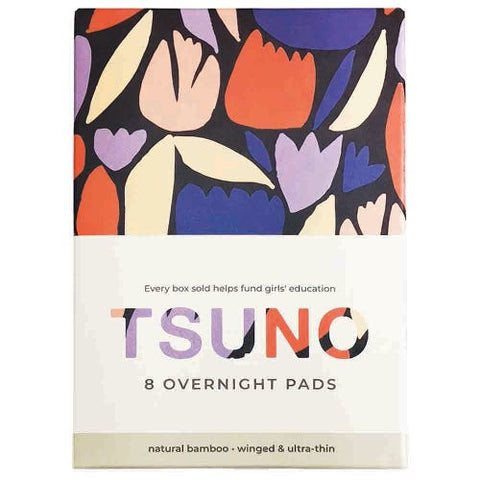 Tsuno
Tsuno Natural Bamboo Pads Overnight (Winged & Ultra-Thin) 8pk
$5.00
$6.00
you save $1.00
Tsuno pads are made from a natural bamboo (not viscose- which means no harsh chemicals used to process it) and corn fibre top sheet, individually wrapped in biodegradable sleeves, and finally packaged in recyclable cardboard boxes.
50% of Tsuno profits are donated to charities that focus on empowering women, with the main focus being education and menstrual support. 
These pads are ultra thin and with wings. They are also individually wrapped in biodegradable plastic and come in recyclable cardboard packaging.
Ingredients:
Chlorine & Dioxin Bleach Free, Natural Bamboo Top Sheet, Leak Proof Biodegradable Films & Wrappers.

Key Benefits:
Natural materials

Non-chlorine bleached

Perfume free

Extra soft cover

Natural Bamboo and Corn Fibre

Not Certified Organic