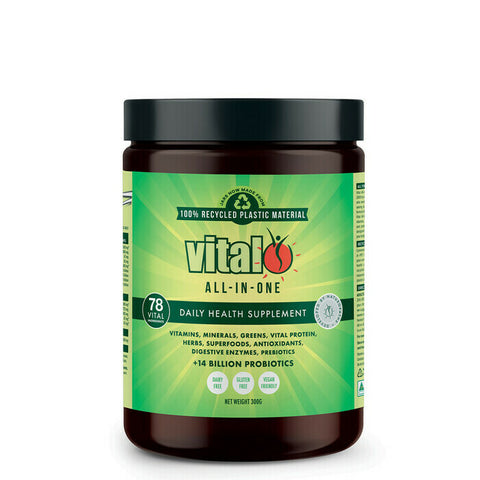 Martin & Pleasance
Martin & Pleasance Vital All-In-One Daily Health Supplement 300g
$54.00
$55.00
you save $1.00
Vital All-in-One Superfood Powder (formerly known as Vital Greens) is an easily absorbed and professionally blended powder made of nutrient dense greens, vegetables, high nutrient fruits, herbs, vitamins, minerals, essential amino acids and fibre. These work synergistically to help in the improvement of general well-being.
This vegan and predominantly food-based formula allows for easy absorption and makes it suitable for all ages.
Ingredients:
Organic Spirulina, Organic Apple, Organic Chlorella, Organic Kale Sprouts, Organic Wheatgrass, Organic Barley Sprouts, Organic Broccoli Sprouts, Acerola Fruit*, Carica Papaya (With Papain), Pineapple Fruit Juice (With Papain)*, Bilberry Fresh Fruit*, Rosehip Fruit*, Red Beet, Carrot Root, Spinach Leaf, Licorice Root, Wolfberry (Goji) Fruit*, Hawthorne Fruit*, Kelp Whole Plant, Citric Acid (Anhydrous), R,S Alpha Lipoic Acid, Astragalus Root*, Grapeseed*, Green Tea*, Cocoa Bean (45% Polyphenols)*, Rosemary Leaf*, Beta Glucans (From Saccharomyces)*, Reishi Mushroom, Shiitake Mushroom, Resveratol*, Citrus Bioflavonoid, Vitamin C (Vitamin Acid), Calcium (From Calcium Citrate), Potassium (From Potassium Phosphate Di-Basic), Vitamin E (D-Alpha Tocopherol Succinate), Magnesium (From Magnesium Citrate), Vitamin B3 (Nicotinic Acid), Silica (From Colloidal Anhydrous), Zinc (From Zinc Amino Acid Chelate), Co-Enzyme Q10 (Ubidecarenone), Vitamin B5 (Calcium Pantothenate), Vitamin B6 (Pyridoxine Hydrochloride), Vitamin B1(Thiamine Hydrochloride), Vitamin B2 (Riboflavin), Vitamin B3 (Nicotinamide), Pro-Vitamin A (Beta-Carotene), Manganese (From Manganese Amino Acid Chelate), Vitamin B7 (Biotin), Vitamin B9 (Folic Acid), Copper (From Copper Gluconate), Selenium (From Selenomethionine), Vitamin B12 (Cyanocobalamin), Chromium (From Chromium Picolinate), Vitamin D2 (From Ergocalciferol), Rice Bran Powder, Milk Thistle*, Dandelion Root*, Burdock Root*, Globe Artichoke Leaf*, Inulin (Fos Prebiotics), Ginger Rhizome, Bromelain, Aloe Vera Gel*, Bifidobacterium Bifidum, Lactobacillus Acidophilus, Bifidobacterium Lactis, Bifidobacterium Longum, Papain (From Carica Papaya And Pineapple), Siberian Ginseng*, Lecithin (95% Phosphatides), Organic Flaxseed Powder, Gotu Kola Leaf*, Withania Somnifera (Ashwaganda)*, 100% Pea Protein Isolate, Natural Vanilla Flavour, Natural Pineapple Flavour, Thaumatin, Stevia, Monk Fruit And Xanthan Gum. *Extract Equivalent amount.
Directions:
For adults, dissolve two heaped teaspoons (10g) into 200-300ml of water, coconut water, non-acidic juice or nut milk once a day.
Ideally on an empty stomach or before breakfast.
For children 5-12 years, serve one heaped teaspoon (5g) daily.
Key Benefits:
Organic Ingredients

Gluten Free

Dairy Free

Suitable for Vegetarians

Vegans