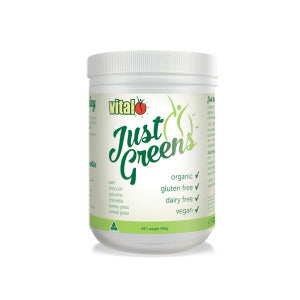 Vital Greens
Vital Just Greens Superfoods Powder 200g
$19.00
$20.00
you save $1.00
Vital has selected the six finest greens found in nature to create Just Greens – a blend of spirulina, chlorella, wheat grass, barley grass, kale & broccoli.
This Australian certified organic raw greens blend is filled with pure wholefood nutrients that are naturally absorbed for optimal benefits.
Just Greens is a clean formula, rich in antioxidants and nutrients that help to alkalise and cleanse so your body can reap the benefits every day.
Unlock your body's energy and vitality with Just Greens.
Ingredients:
Spirulina (25%), Kale (17.5%), Broccoli (17.5%), Barley Grass (17.5%), Wheat Grass (17.5%), Chlorella (5%), Thaumatin (<1%).
Key Benefits:
Certified Organic Ingredients

Low Glycemic

Gluten Free

Dairy Free

Suitable for Vegetarians & Vegans