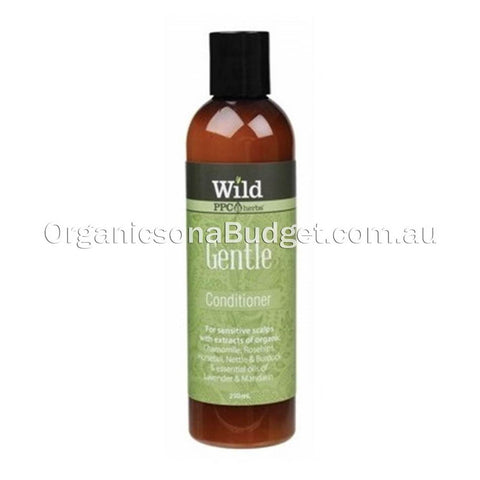 Wild
Wild Gentle Conditioner (Sensitive Scalps) 250ml
Wild products do NOT contain:
No Sodium Lauryl Sulfate, No Sodium Laureth Sulfate, No Propylene Glycol, No Animal Fats, No Artificial Colours, No Detergents, No Perfumes.
Formulated for sensitive scalps and to enrich, nourish and strengthen your hair. Nettle, rich in chlorophyll, silica and sulfur, nutrients that moisturise the hair and promote healthy growth. The astringent properties of nettle will tone your scalp and add shine. When applied to the scalp Burdock can help scalp conditions such as dandruff and hair loss. Gentle enough for children and also suitable for pets.
Directions:
Apply to wet hair after using Wild Gentle Shampoo, massage into scalp for a minute or two and rinse thoroughly.
Extracts made from organic herbs:
Chamomile, Rosehips, Horsetail, Nettle and Burdock.
Essential oil:
Lavender and Mandarin.
Ingredients:
Water, Cetearyl alcohol, Behentrimonium Methosulfate, Glycerin, Hydrolyzed Soy Protein, Dimethicone, Cyclomethicone, Glyceryl Stearate, Caprylyl Glycol, Phenoxyethanol.
Key Benefits:
Organic Ingredients

GMO Free

100% Natural Vegetable Ingredients

Contains No Animal Products

Not Tested on Animals

Sulphate Free

Suitable for Vegetarians